1926-27 season
General information
Manager
Captain
Performance
Division 1

9th

FA Cup

5th round

Top scorers
League

Chambers (17)

FA Cup

Chambers (4)

Overall

Chambers (21)

Attendances
Average

30,032
The 1926-27 season was Liverpool's 35th season of football since they were established.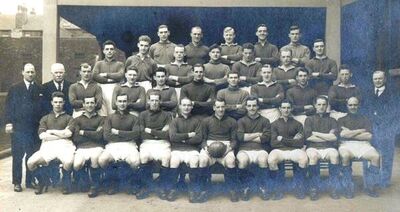 Note: Fixed squad numbers were not introduced until the 1993-94 season.
Friendlies
Edit
No friendlies were play this season.
| Date | Opponent | Score | Scorers |
| --- | --- | --- | --- |
| 28 August 1926 | Man Utd | 4-2 | Forshaw (26, 32, 75), Hodgson (24) |
| 30 August 1926 | Aston Villa | 1-1 | Forshaw (15) |
| 4 September 1926 | Derby | 1-2 | Edmed (39) |
| 8 September 1926 | Aston Villa | 2-1 | Forshaw (10), Chambers |
| 11 September 1926 | Sheffield United | 5-1 | Hodgson (21, 55, 61), Forshaw (37, pen 49) |
| 18 September 1926 | Arsenal | 0-2 | |
| 25 September 1926 | Everton | 0-1 | |
| 2 October 1926 | Leeds | 2-4 | Forshaw (15), Hodgson (86) |
| 9 October 1926 | Newcastle | 0-1 | |
| 16 October 1926 | Sheffield Wednesday | 2-3 | Reid 2 |
| 23 October 1926 | Leicester | 1-0 | Chambers (89) |
| 30 October 1926 | Blackburn | 1-2 | Chambers (13) |
| 6 November 1926 | Huddersfield | 2-3 | Forshaw (19, 70) |
| 13 November 1926 | Sunderland | 1-2 | Forshaw (23) |
| 20 November 1926 | West Brom | 2-1 | Hodgson (6), Chambers (80) |
| 27 November 1926 | Bury | 2-0 | Hodgson (28), Chambers (63) |
| 4 December 1926 | Birmingham | 2-1 | Forshaw (33, 48) |
| 11 December 1926 | Tottenham | 2-1 | Edmed (30), Chambers |
| 18 December 1926 | West Ham | 0-0 | |
| 25 December 1926 | Burnley | 0-4 | |
| 27 December 1926 | Burnley | 2-2 | Chambers (5, 44) |
| 28 December 1926 | Bolton | 3-2 | Hodgson (25), Chambers (42, 76) |
| 1 January 1927 | Bolton | 1-2 | Edmed (40) |
| 15 January 1927 | Man Utd | 1-0 | Forshaw (57) |
| 22 January 1927 | Derby | 3-2 | Hodgson (3, 15, 25) |
| 5 February 1927 | Arsenal | 3-0 | Chambers (3), Reid (53), Cope (og 80) |
| 7 February 1927 | Sheffield United | 4-1 | Reid (15, 66), Chambers (20), T. Scott (35) |
| 12 February 1927 | Everton | 1-0 | Chambers (46) |
| 23 February 1927 | Leeds | 0-0 | |
| 26 February 1927 | Newcastle | 1-2 | Reid (28) |
| 5 March 1927 | Sheffield Wednesday | 3-0 | Chambers (1, 29), Mackinlay (56) |
| 12 March 1927 | Leicester | 2-3 | Reid (1, 12) |
| 19 March 1927 | Blackburn | 2-2 | Chambers (20), Reid (50) |
| 26 March 1927 | Huddersfield | 0-1 | |
| 2 April 1927 | Sunderland | 1-2 | Chambers (2) |
| 9 April 1927 | West Brom | 1-0 | Edmed (89) |
| 15 April 1927 | Cardiff | 5-0 | Reid 2, Edmed (37), Hodgson (55), Lucas (pen) |
| 16 April 1927 | Bury | 2-2 | Hodgson 2 |
| 18 April 1927 | Cardiff | 0-2 | |
| 23 April 1927 | Birmingham | 0-3 | |
| 30 April 1927 | Tottenham | 1-0 | Edmed (25) |
| 7 May 1927 | West Ham | 3-3 | Hodgson (24, 89), Devlin (43) |
| Round | Date | Opponent | Score | Scorers |
| --- | --- | --- | --- | --- |
| 3 | 8 January 1927 | Bournemouth | 1-1 | Hodgson (86) |
| 3 (R) | 12 January 1927 | Bournemouth | 4-1 | Hopkin (5), Chambers (22, 60, 65) |
| 4 | 29 January 1927 | Southport | 3-1 | Hodgson (13), Chambers (50), Edmed (88) |
| 5 | 19 February 1927 | Arsenal | 0-2 | |
| Pos | Club | Pld | W | D | L | F | A | G. Avg | Pts |
| --- | --- | --- | --- | --- | --- | --- | --- | --- | --- |
| 8 | Sheffield United | 42 | 17 | 10 | 15 | 74 | 86 | 0.86 | 44 |
| 9 | Liverpool | 42 | 18 | 7 | 17 | 69 | 61 | 1.13 | 42 |
| 10 | Aston Villa | 42 | 18 | 7 | 17 | 81 | 83 | 0.98 | 43 |
Player stats
Edit
Transfers
Edit