1930-31 season
General information
Manager
Captain
Performance
Division 1

9th

FA Cup

3rd round

Top scorers
League

Hodgson (36)

FA Cup

None

Overall

Hodgson (36)

Attendances
Average

26,652
The 1930-31 season was Liverpool's 39th season of football since they were established.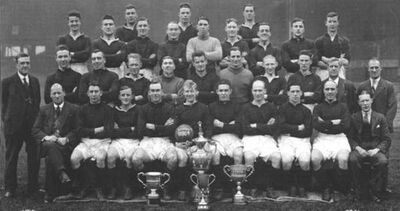 Note: Fixed squad numbers were not introduced until the 1993-94 season.
Friendlies
Edit
Pre-season
Edit
No pre-season friendlies were played this season.
Other friendlies
Edit
| Date | Opponent | Score | Scorers |
| --- | --- | --- | --- |
| 30 August 1930 | Blackburn | 2-1 | Smith (29, 40) |
| 1 September 1930 | West Ham | 0-7 | |
| 6 September 1930 | Middlesbrough | 3-3 | Done (71 pen), Hodgson (75), Edmed (87) |
| 10 September 1930 | Bolton | 7-2 | McPherson (13, 54), Edmed (23, 31), Smith (50), Hodgson (59, 84) |
| 13 September 1930 | Huddersfield | 1-4 | Smith (76) |
| 20 September 1930 | Aston Villa | 2-4 | Hodgson 2 |
| 27 September 1930 | Chelsea | 3-1 | Hodgson (14, 36, 75) |
| 4 October 1930 | Newcastle | 4-0 | Smith (38, 47), Hodgson (43), Edmed (80) |
| 11 October 1930 | Sheffield Wednesday | 1-2 | Hodgson (70) |
| 18 October 1930 | Leeds | 2-0 | Hodgson (6, 10) |
| 25 October 1930 | Blackpool | 3-1 | Smith 3 |
| 1 November 1930 | Man City | 0-2 | |
| 8 November 1930 | Derby | 2-2 | Hodgson (23), McPherson (68) |
| 15 November 1930 | Leicester | 3-1 | Smith (22, 26), Black (og 44) |
| 22 November 1930 | Portsmouth | 0-4 | |
| 29 November 1930 | Sheffield United | 6-1 | Hodgson (30, 36, 72), McPherson 2, Smith |
| 6 December 1930 | Sunderland | 5-6 | Hopkin (10), Hodgson (40), McRorie (44), Smith (89, 90) |
| 13 December 1930 | Arsenal | 1-1 | Morrison (1) |
| 20 December 1930 | Birmingham | 0-2 | |
| 25 December 1930 | Grimsby | 0-0 | |
| 26 December 1930 | Grimsby | 1-1 | McPherson (5) |
| 27 December 1930 | Blackburn | 3-3 | Hodgson 2, A. Scott |
| 3 January 1931 | Middlesbrough | 3-1 | Hodgson (20, 52), Done (65) |
| 14 January 1931 | Bolton | 0-2 | |
| 17 January 1931 | Huddersfield | 1-2 | McPherson (25) |
| 24 January 1931 | Aston Villa | 1-1 | Hodgson (85) |
| 31 January 1931 | Chelsea | 2-2 | Hodgson (43), Gunson |
| 7 February 1931 | Newcastle | 4-2 | Wright (21, 60, 80), Barton (29) |
| 14 February 1931 | Sheffield Wednesday | 5-3 | Wright (17), Hodgson 4 (1 pen) |
| 21 February 1931 | Leeds | 2-1 | Wright (20), Hodgson (78) |
| 28 February 1931 | Blackpool | 5-2 | McPherson (5, 42), Hodgson (30, pen 49, 68) |
| 7 March 1931 | Man City | 1-1 | Hodgson (70) |
| 14 March 1931 | Derby | 0-0 | |
| 21 March 1931 | Leicester | 2-3 | Barton 2 |
| 28 March 1931 | Portsmouth | 3-1 | McDougall (9), Clark (62), Wright (75) |
| 3 April 1931 | Man Utd | 1-1 | Hodgson (64) |
| 4 April 1931 | Sheffield United | 1-4 | Barton (70) |
| 6 April 1931 | Man Utd | 1-4 | A. Scott (67) |
| 11 April 1931 | Sunderland | 2-4 | McPherson (65), Hodgson (pen 70) |
| 15 April 1931 | Birmingham | 0-0 | |
| 18 April 1931 | Arsenal | 1-3 | Roberts (og 5) |
| 2 May 1931 | West Ham | 2-0 | Hodgson (11, 80) |
| Round | Date | Opponent | Score | Scorers |
| --- | --- | --- | --- | --- |
| 3 | 10 January 1931 | Birmingham | 0-2 | |
| Pos | Club | Pld | W | D | L | F | A | G. Avg | Pts |
| --- | --- | --- | --- | --- | --- | --- | --- | --- | --- |
| 8 | Man City | 42 | 18 | 10 | 14 | 75 | 70 | 1.07 | 46 |
| 9 | Liverpool | 42 | 15 | 12 | 15 | 86 | 85 | 1.01 | 42 |
| 10 | Blackburn | 42 | 17 | 8 | 17 | 83 | 84 | 0.99 | 42 |
Player stats
Edit
Transfers
Edit