1979-80 season
General information
Manager
Captain
Performance
Division 1

Winners

FA Cup

Semi-final

League Cup

Semi-final

Europe

European Cup: 1st round

Top scorers
League

Johnson (21)

FA Cup

Fairclough (3)
Johnson (3)

League Cup

Fairclough (5)

Europe

European Cup: Case (1)
David Johnson

Overall

Johnson (28)

Attendances
Average

42,233
The 1979-80 season was Liverpool's 88th season of football since they were established. Liverpool held onto their league title this season, but failed to achieve success in cup competitions - reaching the semi-finals in both the FA Cup and League Cup. Their European Cup campaign was less successful, as they went out in the first round for the second time in as many years.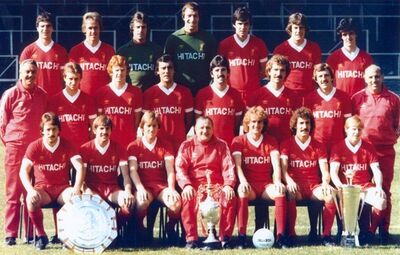 Note: Fixed squad numbers were not introduced until the 1993-94 season.
Friendlies
Edit
Pre-season
Edit
Other friendlies
Edit
| Date | Opponent | Score | Scorers |
| --- | --- | --- | --- |
| 21 August 1979 | Bolton | 0-0 | |
| 25 August 1979 | West Brom | 3-1 | Johnson (11, 58), McDermott (52) |
| 1 September 1979 | Southampton | 2-3 | Johnson (16), Irwin (74) |
| 8 September 1979 | Coventry | 4-0 | Johnson (27, 90), Case (58), Dalglish (62) |
| 15 September 1979 | Leeds | 1-1 | McDermott (81) |
| 22 September 1979 | Norwich | 0-0 | |
| 29 September 1979 | Nottingham Forest | 0-1 | |
| 6 October 1979 | Bristol | 4-0 | Johnson (3), Dalglish (30), R. Kennedy (34), McDermott (80) |
| 9 October 1979 | Bolton | 1-1 | Dalglish (80) |
| 13 October 1979 | Ipswich | 2-1 | Hunter (og 18), Johnson (54) |
| 20 October 1979 | Everton | 2-2 | Lyone (og 8), R. Kennedy (55) |
| 27 October 1979 | Man City | 4-0 | Johnson (12),Dalglish (31, 67), R. Kennedy (86) |
| 3 November 1979 | Wolves | 3-0 | Dalglish (4, 52), R. Kennedy (67) |
| 10 November 1979 | Brighton | 4-1 | R. Kennedy (19), Dalglish (65, 83), Johnson (67) |
| 17 November 1979 | Tottenham | 2-1 | McDermott (34, 69) |
| 24 November 1979 | Arsenal | 0-0 | |
| 1 December 1979 | Middlesbrough | 4-0 | McDermott (5), Hansen (13), Johnson (73), R. Kennedy (84) |
| 8 December 1979 | Aston Villa | 3-1 | R. Kennedy (55), Hansen (60), McDermott (74) |
| 15 December 1979 | Crystal Palace | 3-0 | Case (44), Dalglish (48), McDermott (67) |
| 22 December 1979 | Derby | 3-1 | Davies (og 16), McDermott (pen 53), Johnson (55) |
| 26 December 1979 | Man Utd | 2-0 | Hansen (15), Johnson (85) |
| 29 December 1979 | West Brom | 2-0 | Johnson (24, 44) |
| 12 January 1980 | Southampton | 1-1 | McDermott (pen 60) |
| 19 January 1980 | Coventry | 0-1 | |
| 9 February 1980 | Norwich | 5-3 | Fairclough (4, 18, 75), Dalglish (88), Case (89) |
| 19 February 1980 | Nottingham Forest | 2-0 | McDermott (80), R. Kennedy (84) |
| 23 February 1980 | Ipswich | 1-1 | Fairclough (8) |
| 26 February 1980 | Wolves | 0-1 | |
| 1 March 1980 | Everton | 2-1 | Johnson (19), Neal (pen 31) |
| 11 March 1980 | Man City | 2-0 | Caton (og 56), Souness (83) |
| 15 March 1980 | Bristol | 3-1 | R. Kennedy (5), Dalglish (55, 89) |
| 19 March 1980 | Leeds | 3-0 | Johnson (33, 80), A. Kennedy (60) |
| 22 March 1980 | Brighton | 1-0 | Hansen (70) |
| 29 March 1980 | Tottenham | 0-2 | |
| 1 April 1980 | Stoke | 1-0 | Dalglish (34) |
| 5 April 1980 | Man Utd | 1-2 | Dalglish (14) |
| 8 April 1980 | Derby | 3-0 | Irwin (20), Johnson (50), Osgood (og 83) |
| 19 April 1980 | Arsenal | 1-1 | Dalglish (12) |
| 23 April 1980 | Stoke | 2-0 | Johnson (34), Fairclough (60) |
| 26 April 1980 | Crystal Palace | 0-0 | |
| 3 May 1980 | Aston Villa | 4-1 | Johnson (3, 72), Cohen (50), Blake (og 78) |
| 6 May 1980 | Middlesbrough | 0-1 | |
| Round | Date | Opponent | Score | Scorers |
| --- | --- | --- | --- | --- |
| 3 | 5 January 1980 | Grimsby | 5-0 | Souness (19), Johnson (42, 65, 74), Case (87) |
| 4 | 26 January 1980 | Nottingham Forest | 2-0 | Dalglish (31), McDermott (pen 71) |
| 5 | 16 February 1980 | Bury | 2-0 | Fairclough (64, 81) |
| 6 | 8 March 1980 | Tottenham | 1-0 | McDermott (38) |
| Semi-final | 12 April 1980 | Arsenal | 0-0 | |
| Semi-final (R) | 16 April 1980 | Arsenal | 1-1 | Fairclough (51) |
| Semi-final (R) | 28 April 1980 | Arsenal | 1-1 | Dalglish (90) |
| Semi-final (R) | 1 May 1980 | Arsenal | 0-1 | |
League Cup
Edit
| Round | Date | Opponent | Score | Scorers |
| --- | --- | --- | --- | --- |
| 2 | 29 August 1979 | Tranmere | 0-0 | |
| 2 (R) | 4 September 1979 | Tranmere | 4-0 | Thompson (46), Dalglish (49, 75), Fairclough (83) |
| 3 | 25 September 1979 | Chesterfield | 3-1 | Fairclough (10), Dalglish (34), McDermott (80) |
| 4 | 30 October 1979 | Exeter | 2-0 | Fairclough (60, 90) |
| 5 | 5 December 1979 | Norwich | 3-1 | Johnson (11, 31), Dalglish (37) |
| Semi-final (1st leg) | 22 January 1980 | Nottingham Forest | 0-1 | |
| Semi-final (2nd leg) | 12 February 1980 | Nottingham Forest | 1-1 | Fairclough (89) |
European Cup
Edit
| Round | Date | Opponent | Score | Scorers |
| --- | --- | --- | --- | --- |
| 1 (1st leg) | 19 September 1979 | Dynamo Tblisi | 2-1 | Johnson (19), Case (44) |
| 1 (2nd leg) | 3 October 1979 | Dynamo Tblisi | 0-3 | |
Charity Shield:
| Date | Opponent | Score | Scorers |
| --- | --- | --- | --- |
| 11 August 1979 | Arsenal | 3-1 | McDermott (38, 65), Dalglish (63) |
| Pos | Club | Pld | W | D | L | F | A | GD | Pts |
| --- | --- | --- | --- | --- | --- | --- | --- | --- | --- |
| 1 | Liverpool | 42 | 25 | 10 | 7 | 81 | 30 | 51 | 60 |
| 2 | Man Utd | 42 | 24 | 10 | 8 | 65 | 35 | 30 | 58 |
| 3 | Ipswich | 42 | 22 | 9 | 11 | 68 | 39 | 29 | 53 |
Player stats
Edit
Transfers
Edit