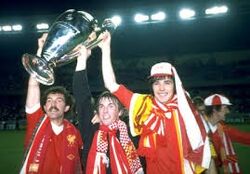 Liverpool won the 1981 European Cup Final, beating Real Madrid 1-0 on 27 May 1981 in Paris. This win salvaged the season for Liverpool, finishing just 5th in the league. They had however won the League Cup, beating West Ham in the replay at Villa Park.
27 May 1981
Liverpool
1-0

Real Madrid

Parc des Princes, France
Kennedy (82)
Starting 11:
Substitutes:
Bob Paisley became the manager to have won the most European Cups, with three. This record still stands, but Carlo Ancelotti has equalled it.
Ad blocker interference detected!
Wikia is a free-to-use site that makes money from advertising. We have a modified experience for viewers using ad blockers

Wikia is not accessible if you've made further modifications. Remove the custom ad blocker rule(s) and the page will load as expected.