2006-07 season
General information
Manager
Captain
Performance
Premier League

3rd

FA Cup

3rd round

League Cup

Quarter-final

Europe

Champions League: Runner-up

Top scorers
League

Kuyt (12)

FA Cup

Kuyt (1)

League Cup

Fowler (2)

Europe

Champions League: Crouch (6)

Overall

Crouch (18)

Attendances
Average

43,561
The 2006-07 season was Liverpool's 115th season of football since they were established. After winning the FA Cup the previous season, Liverpool took part in the Community Shield where they beat Chelsea 2-1. They also reached the Champions League final, against AC Milan, but were beaten 2-1.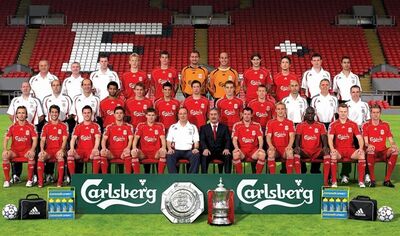 Friendlies
Edit
Pre-season
Edit
| Date | Opponent | Score | Scorers |
| --- | --- | --- | --- |
| 15 July 2006 | Wrexham | 2-0 | Anderson (5), Bellamy (52) |
| 22 July 2006 | Crewe | 1-0 | Lindfield (18) |
| 29 July 2006 | Kaiserslautern | 2-3 | Bellamy (60), Garcia (68) |
| 1 August 2006 | Grasshoppers | 0-2 | |
| 4 August 2006 | Mainz | 0-5 | |
| 16 August 2006 | Lincoln City | 2-1 | Gonzalez (20), Idrizaj (45) |
| Date | Opponent | Score | Scorers |
| --- | --- | --- | --- |
| 19 August 2006 | Sheffield United | 1-1 | Fowler (pen 70) |
| 26 August 2006 | West Ham | 2-1 | Agger (42), Crouch (45) |
| 9 September 2006 | Everton | 0-3 | |
| 17 September 2006 | Chelsea | 0-1 | |
| 20 September 2006 | Newcastle | 2-0 | Kuyt (29), Alonso (79) |
| 12 September 2006 | Tottenham | 3-0 | Gonzalez (63), Kuyt (73), Arne Riise (89) |
| 30 September 2006 | Bolton | 0-2 | |
| 14 October 2006 | Blackburn | 1-1 | Bellamy (64) |
| 22 October 2006 | Man Utd | 0-0 | |
| 28 October 2006 | Aston Villa | 3-1 | Kuyt (31), Crouch (38), Garcia (44) |
| 4 November 2006 | Reading | 2-0 | Kuyt (14, 73) |
| 12 November 2006 | Arsenal | 0-3 | |
| 18 November 2006 | Middlesbrough | 0-0 | |
| 25 November 2006 | Man City | 1-0 | Gerrard (67) |
| 29 November 2006 | Portsmouth | 0-0 | |
| 2 December 2006 | Wigan | 4-0 | Bellamy (9, 26), Kuyt (40), McCulloch (og 45) |
| 9 December 2006 | Fulham | 4-0 | Gerrard (54), Carragher (61), Garcia (66), Gonzalez (90) |
| 16 December 2006 | Charlton | 3-0 | Alonso (pen 3), Bellamy (82), Gerrard (88) |
| 23 December 2006 | Watford | 2-0 | Bellamy (47), Alonso (88) |
| 26 December 2006 | Blackburn | 0-1 | |
| 30 December 2006 | Tottenham | 1-0 | Garcia (45) |
| 1 January 2007 | Bolton | 3-0 | Crouch (61), Gerrard (63), Kuyt (83) |
| 13 January 2007 | Watford | 3-0 | Bellamy (34), Crouch (40, 48) |
| 20 January 2007 | Chelsea | 2-0 | Kuyt (4), Pennant (18) |
| 30 January 2007 | West Ham | 2-1 | Kuyt (46), Crouch (53) |
| 3 February 2007 | Everton | 0-0 | |
| 10 February 2007 | Newcastle | 1-2 | Bellamy (6) |
| 24 February 2007 | Sheffield United | 4-0 | Fowler (pen 20, pen 25), Hyypia (70), Gerrard (73) |
| 3 March 2007 | Man Utd | 0-1 | |
| 18 March 2007 | Aston Villa | 0-0 | |
| 31 March 2007 | Arsenal | 4-1 | Crouch (4, 35, 81), Agger (60) |
| 7 April 2007 | Reading | 2-1 | Arbeloa (15), Kuyt (86) |
| 14 April 2007 | Man City | 0-0 | |
| 18 April 2007 | Middlesbrough | 2-0 | Gerrard (58, pen 65) |
| 21 April 2007 | Wigan | 2-0 | Kuyt (30, 68) |
| 28 April 2007 | Portsmouth | 1-2 | Hyypia (59) |
| 5 May 2007 | Fulham | 0-1 | |
| 13 May 2007 | Charlton | 2-2 | Alonso (62), Kewell (pen 90) |
| Round | Date | Opponent | Score | Scorers |
| --- | --- | --- | --- | --- |
| 3 | 6 January 2007 | Arsenal | 1-3 | Kuyt (71) |
League Cup
Edit
Champions League
Edit
Qualifying stages
Edit
| Round | Date | Opponent | Score | Scorers |
| --- | --- | --- | --- | --- |
| 3 (1st leg) | 9 August 2006 | Macabbi Haifa | 2-1 | Bellamy (33), Gonzalez (88) |
| 3 (2nd leg) | 22 August 2006 | Macabbi Haifa | 1-1 | Crouch (54) |
Group stage
Edit
| Date | Opponent | Score | Scorers |
| --- | --- | --- | --- |
| 12 September 2006 | PSV Eindhoven | 0-0 | |
| 27 September 2006 | Galatasaray | 3-2 | Crouch (9, 52), Garcia (14) |
| 18 October 2006 | Bordeaux | 1-0 | Crouch (58) |
| 31 October 2006 | Bordeaux | 3-0 | Garcia (23, 76), Gerrard (71) |
| 22 November 2006 | PSV Eindhoven | 2-0 | Gerrard (65), Crouch (89) |
| 5 December 2006 | Galatasaray | 2-3 | Fowler (22, 90) |
Knockout stages
Edit
Round
Date
Opponent
Score
Scorers
Last 16 (1st leg)
21 February 2007
Barcelona
2-1
Bellamy (43), Arne Riise (74)
Last 16 (2nd leg)
6 March 2007
Barcelona
0-1
Quarter-final (1st leg)
3 April 2007
PSV Eindhoven
3-0
Gerrard (27), Arne Riise (49), Crouch (63)
Quarter-final (2nd leg)
11 April 2007
PSV Eindhoven
1-0
Crouch (68)
Semi-final (1st leg)
25 April 2007
Chelsea
0-1
Semi-final (2nd leg)
1 May 2007
Chelsea
1-0
Agger (22)
Liverpool win 4-1 on penalties.
Final
23 May 2007
AC Milan
1-2
Kuyt (89)
| Date | Opponent | Score | Scorers |
| --- | --- | --- | --- |
| 13 August 2006 | Chelsea | 2-1 | Arne Riise (9), Crouch (80) |
Player stats
Edit
| Pos | Club | Pld | W | D | L | F | A | GD | Pts |
| --- | --- | --- | --- | --- | --- | --- | --- | --- | --- |
| 2 | Chelsea | 38 | 24 | 11 | 3 | 64 | 24 | 40 | 83 |
| 3 | Liverpool | 38 | 20 | 8 | 10 | 57 | 27 | 30 | 68 |
| 4 | Arsenal | 38 | 19 | 11 | 8 | 63 | 35 | 28 | 68 |
Champions League group stage
| Pos | Club | Pld | W | D | L | F | A | GD | Pts |
| --- | --- | --- | --- | --- | --- | --- | --- | --- | --- |
| 1 | Liverpool | 6 | 4 | 1 | 1 | 11 | 5 | 6 | 13 |
| 2 | PSV Eindhoven | 6 | 3 | 1 | 2 | 6 | 6 | 0 | 10 |
| 3 | Bordeaux | 6 | 2 | 1 | 3 | 6 | 7 | −1 | 7 |
| 4 | Galatasaray | 6 | 1 | 1 | 4 | 7 | 12 | −5 | 4 |
Transfers
Edit
| Player | From | Fee | Date |
| --- | --- | --- | --- |
| Craig Bellamy | Blackburn | £6,000,000 | 1 July 2006 |
| Gabriel Paletta | Banfield | £2,000,000 | 4 July 2006 |
| Fabio Aurelio | Valencia | Free | 5 July 2006 |
| Jermaine Pennant | Birmingham | £6,700,000 | 26 July 2006 |
| Dirk Kuyt | Feyenoord | £9,000,000 | 18 August 2006 |
| Nabil El Zhar | St Etienne | £200,000 | 21 August 2006 |
| Astrit Ajdarevic | Falkenberg | £750,000 | 11 January 2007 |
| Daniele Padelli | Sampdoria | Loan | 12 January 2007 |
| Jordy Brouwer | Ajax | Undisclosed | 24 January 2007 |
| Francisco Manuel Duran | Malaga | £66,000 | 30 January 2007 |
| Alvaro Arbeloa | Deportivo | £2,500,000 | 31 January 2007 |
| Javier Mascherano | West Ham | Loan | 20 February 2007 |
| Player | To | Fee | Date |
| --- | --- | --- | --- |
| Zak Whitbread | Millwall | £200,000 | 13 June 2006 |
| Bruno Cheyrou | Rennes | Undisclosed | 29 June 2006 |
| Robbie Foy | Unknown | Free | 1 July 2006 |
| David Raven | Carlisle | Undisclosed | 3 July 2006 |
| Fernando Morientes | Valencia | £3,000,000 | 5 July 2006 |
| Dietmar Hamann | Bolton | Free | 11 July 2006 |
| Antonio Barragan | Deportivo | £675,000 | 3 August 2006 |
| Djimi Traore | Charlton | £2,000,000 | 9 August 2006 |
| Carl Medjani | Lorient | Free | 12 August 2006 |
| Neil Mellor | Preston | £500,000 | 30 August 2006 |
| Jan Kromkamp | PSV | £1,750,000 | 31 August 2006 |
| Darren Potter | Wolves | £525,000 | 18 January 2007 |
| Stephen Warnock | Blackburn | £1,500,000 | 22 January 2007 |
| Salif Diao | Stoke | Free | 25 January 2007 |
| Florent Sinama-Pongolle | Recreativo | £2,700,000 | 4 May 2007 |
| Chris Kirkland | Wigan | £3,500,000 | 27 October 2007 |
↑

Prior to his transfer