Welcome to the Liverpool FC Wiki
The big red encyclopedia that anyone can edit.
We are currently editing over 458 articles, and you can help
About this wiki | New pages | New files | Active users | Categories | Help pages
GUIDE TO LIVERPOOL FOOTBALL CLUB
Featured Article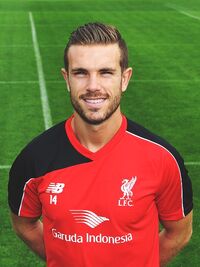 Jordan Brian Henderson (born 17 June 1990) is an English international midfielder who plays as a midfielder for Liverpool. He was signed from Sunderland as a 20-year-old for an eye-catching fee in the region of £16,000,000 on 9 June 2011. His Anfield career began slowly- he was often deployed on the right flank by Kenny Dalglish and he was frequently criticised for being 'anonymous' in matches. He struggled to maintain his place in Liverpool's midfield pecking order, and in the summer of 2012, was reportedly even offered to Fulham in exchange for forward Clint Dempsey by Brendan Rodgers when the Northern Irishman replaced Dalglish. Soon however Henderson fought his way back up the pecking order, and he became an increasingly-important member of Liverpool's central midfield. Consistently praised for his attitude in training and incredible work ethic, Henderson's effort and stamina on the pitch saw him become a fan favourite. Under the guidance of Rodgers, Henderson's technical and tactical ability began to develop rapidly while he also developed more on a personal level, becoming demonstrably more authoratative and commanding on the field of play. (more...)

Did You Know...
...that Liverpool are the third most successful club in European Cup history having won 5 titles?
...that there is no enfored segregation in the Merseyside Derby?
...that the most goals scored in a single season by a player is 47, by Ian Rush?
...that Liverpoool's record win happened against Stromsgodset in an 11-0 victory on 17 September 1974?
...that Liverpool's highest fee paid for a player is £35,000,000 for Andy Carroll?
Featured Game

2001 UEFA Cup Final

Liverpool won the 2001 UEFA Cup Final, beating Deportivo Alaves of Spain 5-4 after extra time on 16 May 2001 in Dortmund. The UEFA Cup was the third trophy won by Liverpool in their treble-winning 2000-01 season, and came just four days after their FA Cup win. (more...)




Featured Image

New Liverpool F.C. captain, Jordan Henderson.



Recent results

10 May 2015: Chelsea 1-1 Liverpool
16 May 2015: Liverpool 1-3 Crystal Palace
24 May 2015: Stoke 6-1 Liverpool
14 July 2015: Thailand Premier League XI 0-4 Liverpool
17 July 2015: Brisbane Roar 1-2 Liverpool
20 July 2015: Adelaide United 0-2 Liverpool

Upcoming fixtures

24 July 2015 vs. Malaysia XI (A)
1 August 2015 vs. HJK Helsinki (A)
2 August 2015 vs. Swindon (A)
9 August 2015 vs. Stoke (A)
17 August 2015 vs. Bournemouth (H)
24 August 2015 vs. Arsenal (A)
Blog Posts
After 5 months away on injury, Daniel Sturridge comes on as a substitute to net a second goal for Liverpool on Saturday's 2-0 victory against West Ham United at Anfield. Amazing!

Read more >

Steven Gerrard has announced his lifelong association with Liverpool Football Club will come to an end in the summer of 2015. I am not going to tell you what Steven Gerrard has been or what he has achieved in his career- there will be pl…

Read more >
Poll
Which summer signing will have the biggest impact?
Twitter