Home
Talk

5
450pages on
this wiki
Welcome to the Liverpool FC Wiki
The big red encyclopedia that anyone can edit.
We are currently editing over 450 articles, and you can help
About this wiki | New pages | New files | Active users | Categories | Help pages
GUIDE TO LIVERPOOL FOOTBALL CLUB
Featured Article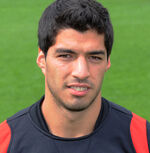 Since the inception of Liverpool F.C., it is thought that 25 players have departed for club-record sums of money. Due to the paucity of reliable financial records from the late 19th and early 20th Centuries, it is not certain who first left the club for a transfer fee and hence who was the first record holder, however the first sale for which reliable data exists is that of George Allan. He left the club for £50 in 1897, though the £1,500 sale of goalkeeper Sam Hardy in 1912 is perhaps the first that can definitively be said to have been a club record sale at the time. Fast-forward to the present day, and the club record sale is now that of Luis Suarez, who commanded a fee one-and-a-half million-times that of Allan in 2014. The list below depicts how Liverpool's record transfer fee received has progressed over time. (more...)
Did You Know...
...that Liverpool are the most successful club in League Cup history with 8 titles?
...that Liverpool's first kit was blue and white?
...that Jerome Sinclair is the youngest player to play for Liverpool, aged 16 years and 6 days?
...that Liverpool's first ever match was against Rotherham Town on 1 September 1892 in a friendly?
...that Liverpool's highest fee receieved for a player is £50,000,000 for Fernando Torres?
Featured Game

1978 European Cup Final

Liverpool won the 1978 European Cup Final, beating Club Brugge of Belgium 1-0 on 10 May 1978 in London. Liverpool and Brugge had met two years prior in the 1976 UEFA Cup Final, with the Reds prevailing on that occasion as well. The European Cup was the only trophy won by the Reds in the 1977-78 season after Liverpool had finished runners up in the First Division, and failed to win either of the domestic cups. A crowd of 90,000 descended on Wembley to watch the match, the vast majority being Liverpool fans. (more...)

Featured Image

New Liverpool F.C. recruit, Emre Can.



Recent results

27 July 2014: Liverpool 1-0 Olympiakos
30 July 2014: Liverpool 2-2 Man City
2 August 2014: AC Milan 0-2 Liverpool
5 August 2014: Liverpool 1-3 Man Utd
10 August 2014: Liverpool 4-0 Dortmund
17 August 2014: Liverpool 2-1 Southampton

Upcoming fixtures

25 August 2014 vs. Man City (A)
31 August 2014 vs. Spurs (A)
13 September 2014 vs. Aston Villa (H)
20 September 2014 vs. West Ham (A)
27 September 2014 vs. Everton (H)
4 October 2014 vs. West Brom (H)

Twitter
Blog Posts
Wasn't expecting that. Wasn't expecting that at all. We collected 36 points from the latter 19 games of the 2012-13 season- top 4 form by most seasons' standards- and had recorded some very impressive victories along the way. I was optim…

Read more >

Liverpool We Won !~

All The Man City Fans are going home with the stupid Tears ! Man City ! You lose ! We knew It ! 

You'll

Never

Walk

Alone !

The Match was displayed at Pakistan on 7:34 PM .  

Woohhooooo !

We won !

We Won ! We won We Won ! Man c…

Read more >
Poll
Are you happy with Liverpool's summer transfer business?